Please note, programs and events are subject to change without notice.
The McLaughlin Story

Opening May 20, 2017
The museum is celebrating Canada's 150th with a new exhibition about a truly Canadian success story. Discover how this McLaughlin family of risk takers helped shape Canada's auto industry. See beautifully restored and as-found McLaughlins and McLaughlin-Buicks, take part in family fun activities, and much more. The carriage manufacturing side of "The McLaughlin Story" can be explored at the Remington Carriage Museum in Cardston.
[ More information on this event ]
History Road – The Ultimate Car Show
June 10 and 11, 2017
Join us as we highlight the best of more than a century of automotive history. Take in the stunning chronological lineup of cars from 1900 to 2014.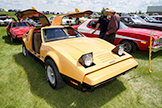 This spectacular display features rare vehicles from the Reynolds-Alberta Museum collection as well as from enthusiasts across Alberta.
[ More information on this event ]
The Hagerty Driving Experience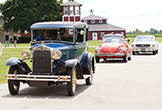 July 22, 2017

Hagerty Insurance is helping to build the next generation of classic car enthusiasts, and keeping the collector community strong. As part of these efforts, The Hagerty Driving Experience will be hosted at the Reynolds-Alberta Museum on Saturday, July 16th!
First introduced in 2011, The Hagerty Driving Experience has provided "behind the wheel" opportunities for more than 500 young drivers to learn how to start, operate and drive exciting manual transmission classic cars! If you or someone you know are between the ages of 15 and 25 and would like to participate as a student, we encourage you to register. Registration is limited and a valid driver's license or permit is required. For more information or to register please visit www.hagerty.com/corporate/hobby-support/youth-programs/hagerty-driving-experience
[ More information on this event ]
Motorcycle "Ride to Reynolds"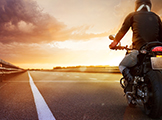 August 19, 2017
Reynolds-Alberta Museum and Honda Canada Inc. invite all motorcycle enthusiasts to take a Motorcycle Ride to Reynolds! All brands, dealership clubs, riding clubs, riding club members and owners from across the province are invited to join us for this day dedicated to the motorcycle. All those riding in on a motorcycle receive free admission. Special allocated parking is provided.
[ More information on this event ]
Harvest Festival
September 2 and 3, 2017

The farm machinery is humming and the ovens are hot, so bring the whole family and celebrate the historic sights, sounds and smells of bringing in the harvest! Plowing, threshing and binding are just a few of the fieldwork demonstrations, along with other displays, such as stooking, grinding grain, flailing, and winnowing.
[ More information on this event ]
Metal Art Show & Sale
September 16 and 17, 2017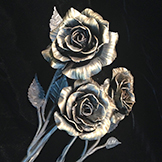 This Metal Art Show and Sale provides artists with an opportunity to display and/or sell their work. The show will feature artists who work primarily with metals. The art will include: unique pieces composed primarily of carbon steel, stainless steel or Damascus steel, pieces created from recycled steel machinery, decorative yet functional tools (knives, etc.),novel toys and other whimsical items made primarily from steel.
[ More information on this event ]
Reynolds-Alberta Museum 25th Anniversary Celebrations
September 30, 2017
Museum-Quality Vehicle Restoration Workshops
Feb 7 – 9 and Feb 12 – 16, 2018
Want to use museum-quality techniques on your next vehicle restoration project? Register for one or a number of these one-day workshops, taught by restoration experts.
[ More information on these workshops ]
---
Events are supported in part by Friends of Reynolds-Alberta Museum.
Explore Wetaskiwin: golf, picnic at By-the-Lake Park, hike, bike, shop for antiques, take an historic walking tour, visit Wetaskiwin and District Heritage Museum and Alberta Central Railway Museum, and watch NASCAR sanctioned car racing – then round it all off with great dining and accommodations.
Information: www.wetaskiwin.ca or 1-800-989-6899